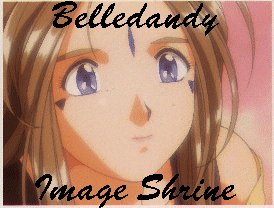 ---
Just Why is Belledandy So Cool?
Belledandy is cool because she's just like "The Girl Next Door," pretty, caring and kind. She can also be assertive, especially when it comes to *some things* ::gets hit by Keiichi:: HEY!
What Are Belledandy's Powers?
Belledandy is a First Class Godess, Second Category, Unlimited. However, I have not a clue what that all means! Belledandy's powers interact with the present (the period of time, not birthday presents!)
What does she look like?
---
Belledandy, Oh! My Godess, Urd, Skuld and Keiichi Morisato all Copyright their respective owners.
"Belledandy Image Shrine" Copyright 1998 Orion K. Megami