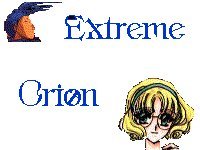 Ya know what annoys me? Kiddie TV shows with puppets. Like Sesame Street, Barney, The Telletubbies, The Big Comfy Couch, and all that other crap.. they have no damn plot! Well.. I suppose Sesame Street does on occasion.. yeah..
"This episode sponsored by the number 6, 6, and 6, and the letters D, I, and E."
UPDATES -
11/24
Stuff happened, updated fansub list. That's about it.. I need to finish my friends page, dammit...
11/15
Added a counter... I need to update more.
11/13 (Friday)
Fansub list updated. Decided to screw the midi project because I just lost interest.
Look At My Baka Guestbook
You are visitor #
since 10/3/98, but the counter was actually put on the page on 11/15/98

---
Be sure to visit Mickey's site, e x t r e m e_r y o k o

---
Please visit my sponsor, and uhh.. buy stuff, preferably anime.. mmm... anime.. good stuff.
Page Created 3/30 by Orion